St. Patrick's Day is just around the corner! If you are looking for a way to make the day a little more colorful and fun, we've got some recipes for you.
From rainbows to shamrocks, read on for some great ideas that will satisfy your sweet tooth and make your little leprechauns giggle with delight. 
Rainbow jiggles
If the family has any patience left after making 30-something crafted Valentines, try this idea for rainbow-hued Jell-O cups featured over at Glorious Treats. You'll need a lineup of different flavors, Cool Whip and chocolate coins to assemble this lucky treat. Each layer needs to firm up for 15 to 30 minutes before adding the next layer, so you'll also need to hold the attention of your brood for several hours — but the end result is worth it!
Push your luck
Here's a "cool" idea for St. Patty's Day push pops featured over at the Hoosier Homemade blog. The recipe calls for a few festive ingredients: minty brownies, vanilla pudding (plus green food coloring), Irish cream coffee creamer, mint chocolate and whipped cream. Layer up the sweets and you've got the perfect bait for the leprechaun with a sweet tooth. No push pop containers? Don't worry — the layers look just as beautiful in a glass.
Hat trick
These leprechaun hat s'mores from Hostess With the Mostest are so adorable, we squealed with excitement when we first saw them. Jumbo marshmallows? Yes! Fudge Stripes cookies? Please! Simply dip and decorate in chocolate and green candy melts and you've got sweet little hats for your kiddos. Head over to the full post for the DIY tutorial, plus tips on how to make the sparkly shamrock embellishments.
Lucky lunch
Make lunch a little luckier with this St. Patrick's Day treat, courtesy of Gourmet Mom on the Go. A few strategically placed frosting footprints and a hidden chocolate coin take lunch away from the ordinary. With some green-dyed frosting and a Ziploc baggie, Mama Mandy makes it easy on us wait-until-the-last-minute-almost-forgot-to-wear-green moms.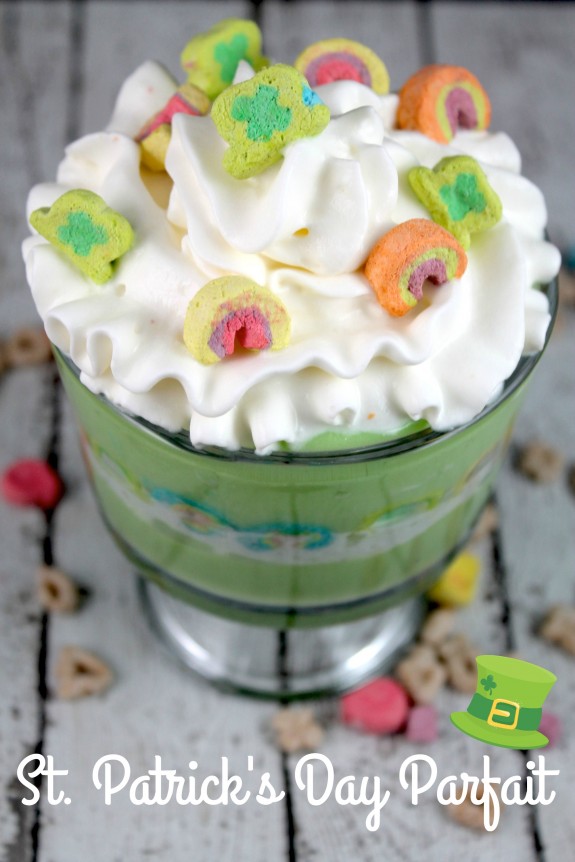 Perfect parfaits
Lucky Charms cereal is a St. Patrick's Day MVP. You can make Lucky Charms marshmallow treats, or even use the mini-mallows as cupcake toppers. But we love this easy St. Patrick's Day parfait featured over at Not Quite Suzie Homemaker. Made with layers of yogurt (leprechaun green!) and Lucky Charms, you could even present this to kiddos as "dessert" for breakfast. Tricky, indeed!
Fruity rainbow 
It's an edible ROY G. BIV display for St. Patrick's Day! This idea from San Diego Cooks features strawberries, clementines, pineapple, green grapes, blackberries and purple grapes, making it a lovely rainbow centerpiece for your St. Patty's Day table. Mini-marshmallows form clouds on one end, and sliced bananas are a leprechaun's loot on the other end. So clever!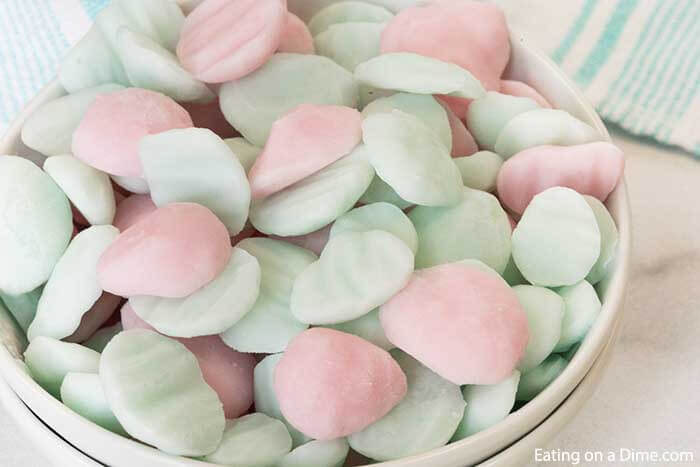 Deep freeze
Oh, we're in love with the idea for these frozen "dots" featured at Eating on a Dime. Unlike the popular ice cream version, these cuties are made from colorful frozen yogurts. Simple and healthy! Try using a pastry bag and tip to crank the dots out onto parchment paper. (Little shamrock or coin shapes for St. Patty's Day would be fun, too!) Pop the sheets into the freezer and you'll have a healthy snack that your little leprechauns will scoop right up.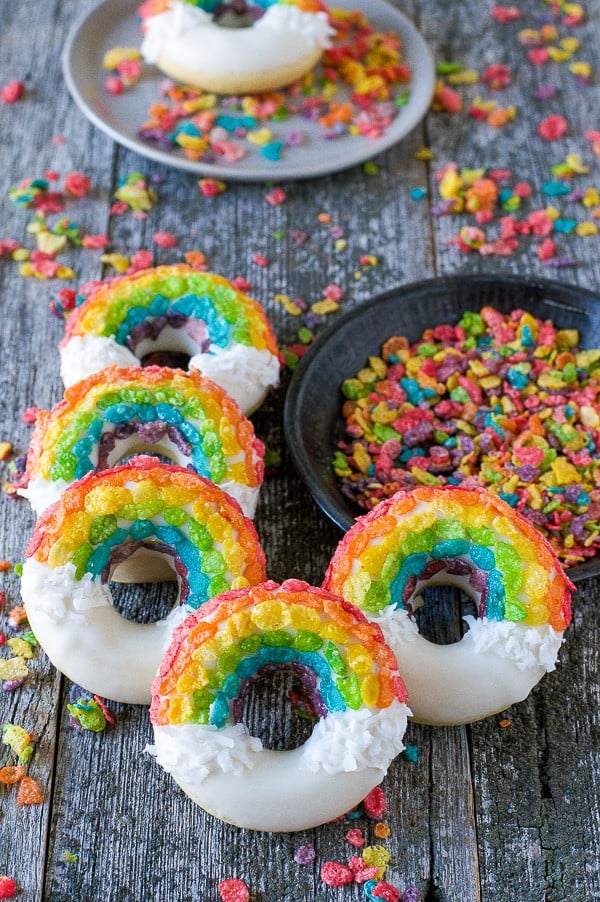 Rainbow doughnuts
These doughnuts are so cute you won't even miss that pot of gold. Head over to The First Year for all the details on how to make these adorable treats, and check out Beth's other St. Patrick's Day ideas, too! 
Green smoothies
The lucky green theme continues with From My Bowl's recipe for "shamrock" smoothies. A mix of frozen cauliflower, peas and avocado (really!) make up the base of the smoothie, and whipped cream and a cherry on top add a little St. Patrick's Day flair! Head over to the full blog post for the recipe and a few other St. Patrick's Day ideas.
Sham-rockin' pizzas
Spoiler alert: Blissfully Domestic's fun idea for mini pizzas is super easy and healthy to boot! Shhh … don't tell your picky eaters that the lucky shamrocks are really veggies. Hamburger buns, marinara sauce, mozzarella cheese and green peppers are all you'll need. Who doesn't love a good pizza pie?
Editor's note: This article was first published several years ago and was updated in 2023.